The 2016 Horsetooth Half is one that will be remembered for a variety of different reasons; none more so than the weather. But our runners couldn't be deterred. Despite predictions of up to 30 inches of snow leading into the race, and a last minute change of parking venue from Hughes Stadium to the Holiday Twin Drive In, 1,370 of 1,920 registered runners showed up to the 2016 Horsetooth Half start line ready to run through whatever Mother Nature had in store. In the end, just six inches came down overnight, which City and County plows made quick work of, and the race was off and running under what turned out to be excellent running conditions.
New this year, the race gave away $100 premiums to the first man and first woman to the top of Monster Mountain, just 1.8 miles into the course. In the exciting race within the race, Ben Wheatley out-kicked former race winner Mike Chavez to claim King of the Mountain status, while Brianne Nelson cruised uncontested to claim Queen of the Mountain. Full Monster Mountain split times are available here.
From the top of the hill, eventual race winners Brianne Nelson (1:16:44) and Steven Pretak (1:16:48) settled into a rhythm and ran stride for stride all the way to the finish straight on Linden Street where Nelson unleashed a kick and made Horsetooth Half history by becoming the first woman to ever win the race. In the process she bettered her own course record by some four minutes. An impressive run and a fantastic way to cap an unpredictable race week. 
Filling out the podium in the women's race were Heather Utrata (1:26:16) and Ruth Waller-Liddle (1:27:41). In the men's race, Mike Mutuszak (1:17:36) and James Vance (1:18:10) took second and third respectively. Taking home the prize money in the master's division were local favorite Mercedes Gil (1:41:39) and Nebraskan Ryan Regnier (1:22:18).
Age group award winners took home beautiful pottery from local potter Amy Hayman. For those that weren't able to collect their awards at the post-race prize giving, they are available at Runners Roost for pick-up. All finishers went home with a beautiful commemorative pint glass from New Belgium Brewing and a unique finisher's medal.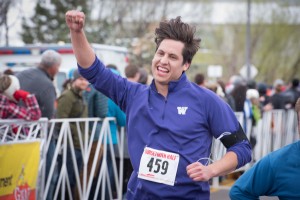 For those who haven't had a chance to check out official race photos, please visit the websites of:
If you are interested in official race apparel, we still have a limited run of inventory for sale here through race partner Sport About Fort Collins.
Full race results are available from the results page of the race website. 
In closing, we'd like to thank all of our wonderful volunteers who helped out in many different capacities and who, on race day, stood out in less-than-ideal conditions to ensure that runners were taken care of and got from point A to point B safely.
We'd also like to thank our four wonderful top-tier sponsors who have supported this year's event with complete enthusiasm.
Please visit our sponsor page to see the full list of business sponsors and non-profit volunteer organizations who helped make this year's race a success.
Planning has already begun for 2017, and we very much hope to see you back again in just under a year. Until then, happy running!