The Fort Collins Running Club (FCRC) owns the Horsetooth Half Marathon and has been promoting fitness in Northern Colorado since 1971.
The mission of the Club is to provide an enjoyable and positive running atmosphere, to offer events for runners of all abilities and interests, and to promote the healthful benefits of running.
Proceeds from the Horsetooth Half Marathon help the FCRC meet its mission through member activities and the promotion of running in the Fort Collins community. In addition to FCRC activities, the Club also donates to local organizations and schools to support running programs and running-related charities, and to make running as accessible to as many within the community as possible.
Club members enjoy a range of benefits, including discounts to local races and running stores. The Club also offers a running series leading up to the Horsetooth Half Marathon, which is free to all members. The Tortoise & Hare is a low-key "handicap" series of seven races that are run monthly from October to April, typically on the first Sunday of the month. Computer-predicted times and staggered start times allow runners of all levels to compete equally.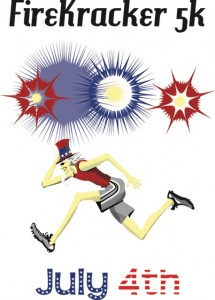 The T&H races are not only free to all club members, but they also include a free bagel breakfast after each race. Consider joining the club and run with us at one or all of the T&H races as part of your preparation for the Horsetooth Half Marathon.
The Club also owns and operates the marquee FireKracker 5k held every fourth of July in City Park, as well as New Years Eve's Resolution Run 5K, and all members receive a discount into those races, in addition to well over two dozen local races that the club sponsors each year.
The benefits of membership are many. Consider joining the Club today!
Maude Vance's FCRC Story:
"I had never run a mile straight in my life, but I wanted to. I signed up for the Tortoise and Hare series at the encouragement of two friends. The day before the first race in 2014, I ran a mile for the first time. I had never run a race before. I showed up the day of the race with a combination of enthusiasm and trepidation. Everyone there was friendly, supportive and encouraging to a first timer. I started early (as a tortoise) and ran the entire 4K route. Anyone who passed me spoke words of encouragement which kept me going for the longest run I had ever done. I finished with a grin on my face. The FCRC continued to provide support/encouragement as I continued to run more frequently and longer. I ran many of the Tortoise and Hare races through the winter of 2014 and I ran the Colorado Half Marathon in Spring 2015.

I have met amazingly friendly runners of all abilities through this process. I am running the Tortoise and Hare series again this fall/winter and am looking forward to continuing my running journey. This group is welcoming and supportive of runners of all abilities and goals."