The Horetooth Half Marathon will again be awarding $8,000 in prize money this year, with generous support from the Fort Collins Running Club.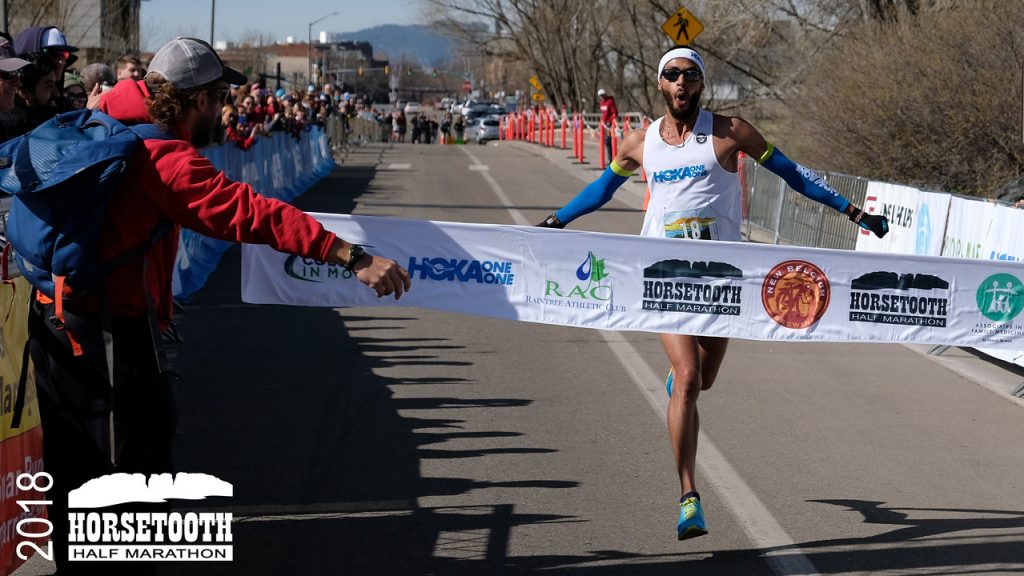 Overall awards for the 45th running of the event will go five deep. In the master's division, payouts will go three deep, and – once again – there will be a separate Fort Collins Running Club-only pool. In addition, the race will be awarding a $200 premium to the first man and first woman to the top of Monster Mountain at mile 1.8, some 500 feet above the race start on Dixon Canyon Drive.
"The Fort Collins Running Club is committed to supporting runners of all ages, talent, and experience. As part of our mission to support the elite side of the sport in Colorado, the Club has continued its support of the Horsetooth Half prize purse by matching the $4,000 put up by the race, as well as increasing our support of local runners by offering cash awards for our top club members," said Fort Collins Running Club Board Member, Kate Schulte.
"We love the Horsetooth Half course and its vibe, and want to make it THE race for all Coloradoans, and even all U.S. runners, to add to their bucket list of races. With a challenging and beautiful course, the best post-race party in the state, and now with even more of the best talent in the area, the 46th running of the race is sure to be exciting!"
For full award details, including age group awards, please visit the awards section of the race website.
Men's Race
There will be a new champion this year, with 2018 champion Brandon Johnson currently working his way back from injury. That leaves the field wide open.
The top returning runner from last year is University of Wyoming Assistant Cross Country Coach, Scott Dahlberg, who finished fourth in 2018 in a quick 1:09:51 after finishing third in 2017 (1:09:21).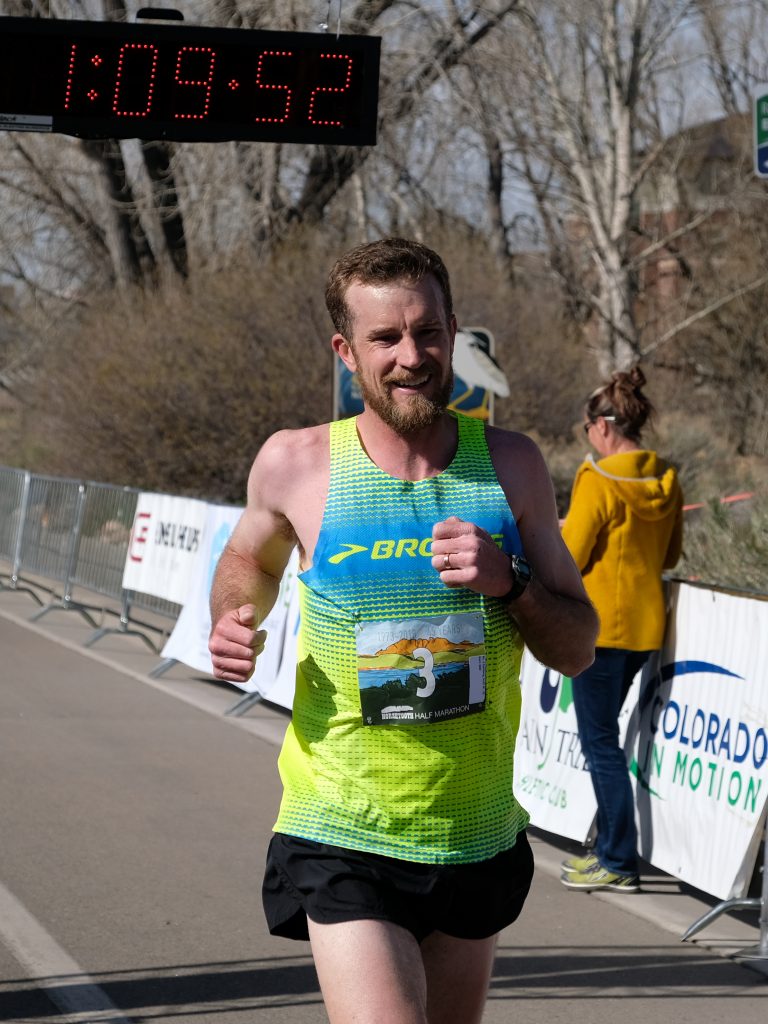 An interesting addition to the field this year is Poudre High & Colorado State standout Grant Fischer, who continues to train post-collegiately with the Siemers Dreamers group. He'll be stepping up in distance to the half marathon for the first time at the Horsetooth Half, abd comes into the race with 5k/10k PRs of 13:44 & 28:45.
Both Scott and Grant will be pushed by a long list of other elite entrants that will be in the hunt for a podium finish. These include Dominic Korir, a Colorado Springs-based Kenyan training with the American Distance Project. Korir appears to be in great form, running a 1:02:59 for second in December at the San Diego Holiday Half.
Boulder's Kurt Roeser will also be toeing the line eyeing a podium finish on Sunday after running his way into the 2020 Olympic Trials (Marathon) at the California International Marathon in December with a 2:17:55.
Finishing fifth in 2018, Alejandro Garcia is showing some recent form, coming off a win at the 2019 Spring Equinox Half Marathon (1:10:57) here in Fort Collins. Second and third place finishers from that same race, Brian Eimstad and Alexander Mauro, will also be toeing the line on Sunday. Bashash Walio was seventh last year and will be back on the start line after running a 1:05 at the Bryce Canyon Half last summer. He too has had success at the Equinox races winning the 2017 Fall Equinox Half Marathon.
Others to watch out for include:
Kevin Kochei, coming off a recent 47:13 15k
Wisconsin's Derek Johnsrud with a recent 1:10 half and 31:55 10k
Joshua Mirth (11th last year)
Former course record holder Paul Petersen
Adrian Macdonald with a recent 2:28 marathon PR at Houston and 53rd overall at Boston last year
Eder Pina stepping up in distance with 5k/10k PRs of 30:54 and 14:43
And 13th place finisher in 2018 Chris Copenhaver who swears he's cracking the top 10 this year
Women's Field Summary
AnnMarie Kirkpatrick will be headlining the women's field at the 46th running of the Horsetooth Half on Sunday. And she has been in great form since last year's win, scoring a big PR at the Cal International Marathon (2:37:49) in December. Her run last year was the second fastest ever in the 45 year history of the race, but she'll likely have to go quicker this year to defend her title.
AnnMarie is going to be pushed hard by a very strong field, led by Boulder-based Kenyan Grace Kahura who had a breakout race in June of last year, running a 2:34:02 at Grandma's Marathon in MN. She followed that up with a 1:14:20 half in Columbus, OH. Countrywomen, Ivy Kibet, based in Colorado Springs is also likely to be in the mix after running a PR 1:13:26 in Santa Fe in September.
Westminster's Ashley Brasovan does a bit of everything. Last year alone she won a number of trail and mountain races, including a third fastest ever at the Mount Evans Ascent, while also staying sharp on the roads with an 11th place finish at the US Road Half Marathon Championships. With 1:14 and 2:40 half and full PRs, she too will be in the mix on Sunday.
Nicole Feest was a CSU standout over a decade ago, before pursuing a post-collegiate career with Brad Hudson in Boulder. She ran a 2:41 marathon PR in 2013 to qualify for the 2016 Olympic Trials, then took a couple years off. Now training under Kathy Butler, she is using the Horsetooth Half as her comeback race.
Both Laura Cook and Adrian Neal punched their tickets to the 2020 Olympic Marathon Trials in December with runs of 2:43 and 2:44 respectively. Both of the Colorado residents will be looking to push for the podium this Sunday.
Finishing third in 2016 was Ruth Waller-Liddle. A 800 meter standout at Baylor University, Ruth has been stepping up in distance in recent years and looks ready for another strong run at the Horsetooth Half this year after an eighth place finish last year. One place ahead of Ruth last year was triathlete Uli Broome who will also be back on the start line this year.
Others pushing for top spots include Broomfield's Emily Renner who ran a 2:54 at last year's Grandma's Marathon, and Texas A&M miler Sophie Blake who has been stepping up in distance, last year running 1:22 at the Houston Half.
Strong and Deep Field
Race Director, Nick Clark, believes that this will be among the strongest and deepest Horsetooth Half fields in the 46-year history of the race, noting, "with the generous support of the Fort Collins Running Club, we have been able to maintain a generous prize purse, which has enabled us to attract another strongest Horsetooth Half field, and likely the strongest half marathon field in the state this year."
"While our focus for the race is primarily on providing a unique, fun and community-focused experience for all of our runners, we also have an opportunity to support the sport of running through the Running Club's sponsorship of the prize purse and we hope to be able to continue to focus on developing the race as one of Colorado's most competitive half marathons."
"We think the race is going to be fiercely fought this year and we encourage running fans to come on out to spectate the race and see some of the fastest runners in the state compete."